CourseRight is a new way of envisioning course creation and assessment in education … tying in-class formative assessment with high-stakes summative assessment, and enabling the combination of curriculum and testing in a single vehicle.
A key goal is making the creation and delivery of interactive, multimedia tests and quizzes as simple as making a PowerPoint presentation. But publishers can also use CourseRight to create wonderful and engrossing basal and supplemental materials, delivering content to students in a whole new way.
Versatile
In terms of testing, questions can be text, images, audio, video, or a simulation. And answers can be text, drawing, writing, clicking, audio, or any combination of these actions.
Simple
All this is created via a simple drag-and-drop interface that anyone who has used PowerPoint can do.
Ecosystem
It's not just about the tools in the hands of teachers and students. The data is critical: storing it, sharing it, compiling it, accessing it. So CourseRight has a built-in tiered model from the classroom to the globe that managed data access and sharing … giving teachers and administrators custom dashboards to allow assessment data to influence future instruction and/or remediation.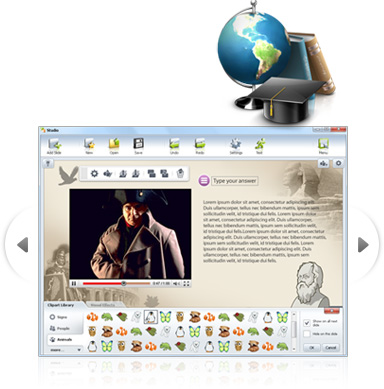 CourseRight is an overall solution for content and testing in education … from creation to delivery to data storage to data access.
Both publishers and teachers can create and sell (or share) courses in CourseRight … or build assessments that are authentic measures of student achievement.
Partnering
We are currently working with a number of companies in the education and testing space to bring CourseRight to market. If you are a publisher or education company, we'd like to talk about mutual opportunities.